OREGON TRAIL PARK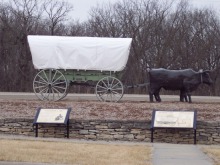 Just south of Westmoreland, on the east side of Highway 99 is a park honoring the memory of those thousands of hardy pioneers who camped in this area, near SCOTT SPRINGS, on their way to a new life in Oregon. The wagon and team of oxen and the sign were built by a local craftsman, Ernest White. The land was deeded to Pottawatomie County for one hundred years for $1.00 by descendants of the Scott family. The park and trails were designed by the Kansas State University Forestry Department. Rest rooms and a shelter with picnic table are available at this site. A handicap accessible walking trail (Little Dog Lost Trail) leads from the park, under the bridge to the other side of the highway and on toward the museum complex, a distance of approximately one mile.
---
LITTLE DOG LOST WALKING TRAIL

A mile-long handicapped accessible trail extends from the Oregon Trail Park to the Museum complex. A marker is placed along the trail at the site where some years ago a little dog sat day after day, apparently waiting for his family to come back to get him. Locals took pity on him and began bringing him food and eventually a dog house. The little dog became know as "Mike," but later it was discovered that Mike was actually a "she," when a litter of pups made an appearance. Because of the number of cars that were driving by and sometimes stopping to visit the dog and her pups, the Department of Transportation requested the dog family be re-located for safety reasons. A local resident moved the little dog and her family to town, and had no problem eventually finding homes for the pups.
HAND-DUG WELL

Working without the benefit of modern machinery, using only picks and shovels, as many as forty men labored through the winter months and early spring of 1914 on the construction of the Westmoreland city water well.

ORIGINAL SODA FOUNTAIN

Original soda fountain from the 50's era is still in service at the Hoffman Pharmacy. It was recently designated one of the "8 Wonders of Kansas Customs."

HISTORIC RESIDENCES

Cochrun House--earliest surviving residence in Westmoreland (1882)
J.H. Cooper residence (1883)
M.E. Beal residence (1885)
H.L. Gard residence (1883)
Elizabeth McKee residence (1895)
Grand Army of the Republic Building--now a private residence (1885)
HISTORIC BUSINESS AND PUBLIC BUILDINGS

The Old Robson Brothers Department Store Building--
Old Star Drugstore
Old Reyers Jewlry store building
Gas Lamp in Mini Park
Shriners Loan Office (1883)
City Meat Market building (1885)
City Hall--formerly pump house for hand-dug well
Pottawatomie Courthouse -- one of oldest still in use in Kansas
Bayview Reading Society Band Stand
Former Grade School--now Pottawatomie County Office Building with Mini Museum in central hallway.
ENTRANCE PILLARS TO LEGION PARK

Constructed of local glacial rock, these monuments were donated in memory of
George Perry by his daughter, Annie M. Bundy in 1930. At that time, the road into Westmoreland passed this way.

More Information

To learn more about Westmoreland, Kansas visit: www.cityofwestmorelandks.org