Call museum 785.457.0100 for further information. During hours when museum is closed message on phone will direct you to a local volunteer.




NOT THIS YEAR! BUT GET READY FOR NEXT YEAR!!

We began our 3rd annual Oregon Trail-A-Thon on May 1, with walkers walking whenever convenient for them and self-reporting on forms posted on the front of the Museum. A number of our former participants began immediately and some newer "pioneers" joined in on the fun.

As of September 30, 2015 we had put 1,773 miles on the Trail, 227 short of our goal. We faced some additional obstacles in our "journey" this year, in spite of the fact we had some new committed walkers, and one of our veteran walkers logged an awesome 296 miles all by herself over the course of the 5 months. Check back next year! We plan to go again!

Scroll down to check out the story about the early traveler grave site in rural Westmoreland and recent visit by descendants of the traveler buried there.




LOG CABIN RESTORATION PROJECT:


UPDATE:

The log cabin has developed serious problems which will require considerable corrective measures to be taken to preserve it. An estimate for repairing and restoring the cabin according to standards required for preserving historical structures was received from a company that specializes in that work. It is no surprise to learn that it will be a very expensive project, costing approximately $30,000.

The Log Cabin is one of the most popular attractions of the Museum, and we feel that it is important to preserve it for future generations. Thanks to a generous donation from Farmers State Bank and some funds we have managed to save from prior donations and fundraisers, we are prepared to begin on the project, but will need to raise additional funds to complete it. We are also seeking monetary donations from members and friends of the Historical Society.

Anyone wishing to contribute may drop a check or cash off at the Museum during open hours, or mail a check or money order to RCV Historical Society, PO Box 13, Westmoreland, KS 66549.



OREGON-CALIFORNIA TRAIL TRAVELERS
These are some of those more modern-day hardy travelers:


Bill and Shirley Boyce, Oregon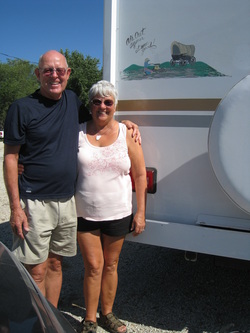 Bill and Shirley were following the Oregon Trail on their way home from recent travels--August, 2012. Note the covered wagon painted on their RV. They called from their RV park and made special arrangements with us to visit our museum during hours that we are not usually open. We are happy to do that when possible for those traveling through who cannot visit during our regular hours. (And Bill even did a little repair for us on the lock on our stone church. )
---
Don Weinell, Louisiana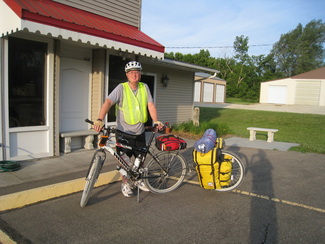 Don Weinell from Louisiana completed the first phase of his four-year plan to ride his bicycle the entire length of the Oregon Trail from Independence, Missouri, to Oregon City, Oregon--May, 2012. He was greeted when he arrived in Westmoreland by a member of Rock Creek Valley Historical Society who gave him a brief tour of the interesting sites in town, and provided bed and board overnight. He is shown here the next morning ready to head on down the road. Unable to take time from work to complete the trip in one year, this year he went as far as Kearney, Nebraska. Visit his blog at http://www.crazyguyonabike.com/doc/?o=1&doc_id=8076&v=93



---

EARLIER TRAVELER-- Barbara Maat, Boston

Barbara stayed awhile in Westmoreland on her way to California

This article and picture appeared in the Westmoreland Recorder May 18, 1978. As the article states, she spent four days in Westmoreland recuperating from the unexpected obstacles she had encountered on her trek. Suffering from sunburn, windburn, and the physical strain of an unplanned extra number of miles of walking, she managed to stumble into the high school in Westmoreland seeking refuge. The principal took her home where she spent the next few days recuperating with a little assist from the Wilkerson family.

Barbara kept a journal along the way and wrote about her adventure in a book entitled Westward Woman. More about her trek and the book, now for sale at the museum, on the "Our History" page of this website.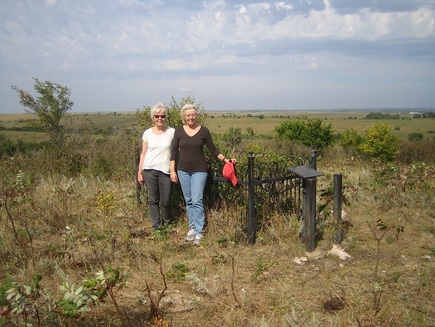 DESCENDANTS OF S.M. MARSHALL VISIT September 2015


Gravesite of early traveler, one of many who died on the Trail before realizing their dream.

This site in the rural Westmoreland area was called to the attention of the State Historical Society by the landowner in 1929. The Society was given permission to remove the stone marking the grave with the name and date scratched in. Other stones that were originally placed on the site still remain on the grave.


Eventually, a fence was made by a local craftsman and placed at the site. Replicas of the original stone with name and date have been placed on the grave and on display in the museum in Westmoreland. And a sign with what information was available at the time.


Very little was known of the person buried there until these two ladies came to town and visited the museum seeking information about the location of the grave. A local couple got permission from the landowner to take the ladies to the site--to the great satisfaction of both visitors and hosts. The ladies came upon the information about S.M. Marshall, whom they identified as Solomon from their research of family genealogy.


They further informed us that Solomon had come from Kentucky leaving a young wife and children behind. As was so common with the early pioneers, wife and children were to follow after "Father" had settled somewhere and found a place for them to call "home." When he knew he was dying he requested that he be buried on the top of a hill, facing the direction of Kentucky.


The picture only presents a hint of what one experiences looking out across the land from that place. Were the early travelers more struck by the awesome sight of those rolling hills, a spiritual experience for those of us who live in the area, or were they more filled with fear as they recognized the prospect of the days, weeks, months ahead of navigating wagons and family through the unknowns ahead of them?


---
RURAL ONE-ROOM SCHOOL "ALUMNI" GATHER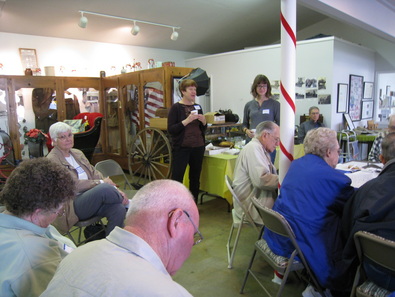 Katie Goerl, KSU senior is researching information related to one-room schools as part of her work as intern with the Chapman Center for Rural Studies. These former students of one-room rural schools were invited to come together at the museum on Saturday, November 5 to share their memories of those early days with her. She and her mentor Dr. Morgan, Research Lab Director at Chapman Center, are shown in the picture on the left waiting for the participants to fill out their questionnaires. They elicited interesting discussions from these "alumni" of those rural schools of former years.

The conversation and interaction became much more lively and interesting following the filling out of information about themselves as they are shown doing in these pictures. The camera was put away during the more lively discussion to avoid any chance of distraction.

Two pictures of students standing in front of Jenkins School are also shown below.
---
GRANT
ONEOK/Kansas Gas Service generously donated $2,500 to the Wiziarde Circus Building at the Rock Creek Valley Historical Society to assist with the restoration of this training barn. We were told that some of the officials of the company had a special interest in the project as they remembered watching Whizzo the Clown on TV. In real life, Whizzo was Frank Wiziarde who grew up in Westmoreland and trained in this barn with his family when they were preparing to take their show on the road.
BEFORE: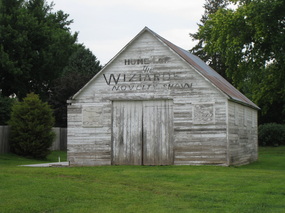 The Wiziarde Training Barn as it looked when it was first moved to the Museum Complex. (See "Complex" page for progress of restoration project as of April, 2011.)

---
HOFFMAN PHARMACY ONE OF "8 WONDERS OF KANSAS"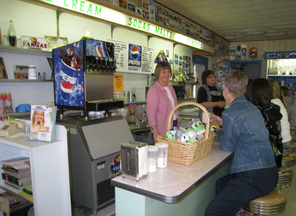 Hoffman Pharmacy and Soda Fountain was been named one of the
"8 Wonders of Kansas Customs" by the Kansas Sampler Foundation in 2011.
One can sit at the counter and order a sundae, shake, or float at this
50's style soda fountain, one of only 24 remaining in Kansas.

---
KANSAS STATE UNIVERSITY HISTORY GRANT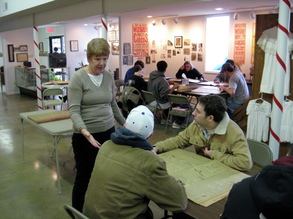 The Board of Directors of the Museum agreed to sponsor a group of K-State students on a History is Now grant project entitled "Filling the Larder, Feeding the Family" in January of 2010. The students researched old newspapers and maps located at the museum and interviewing local residents to gather information related to their project. Students of a K-State history class are shown here with their instructor, Dr. M.J. Morgan, browsing through some of the historical old editions of the Westmoreland Recorder . Our collaboration with K-State continues; we are an Affiliate with the Chapman Center for Rural Studies at the university.

---
INTERESTED IN KEEPING INFORMED, VOLUNTEERING, OR JOINING?

Memberships in the Historical Society are being accepted for the year 2013. Our membership year is from January 1 to December 31 each year. Dues for one year are $5.00 per person. Lifetime memberships are also available for $100 each. Anyone interested in helping to preserve the history of our community is encouraged to join. Memberships help us maintain our site and continue to collect and preserve our historical past. Anyone who wishes to join and did not receive a letter with membership form may indicate interest by leaving a note under "Contact Us" (see menu bar above), mailing intent to the Historical Society at PO Box 13, Westmoreland, KS 66549, or by calling or dropping by the museum.

Board of Directors meet on the first Wednesday of every month at 7:30 at the Museum. The annual meeting of members is held each August. Information is sent out to all members at that time. Anyone interested in the activities of the Society and perhaps in joining is also welcome to attend.

If you would like to receive news, notices, and updates about our events and progress or would like to volunteer to help with a project or activity, leave us a note and your email address. We hope to be able to increase our communications with interested parties by use of this website and email notices.